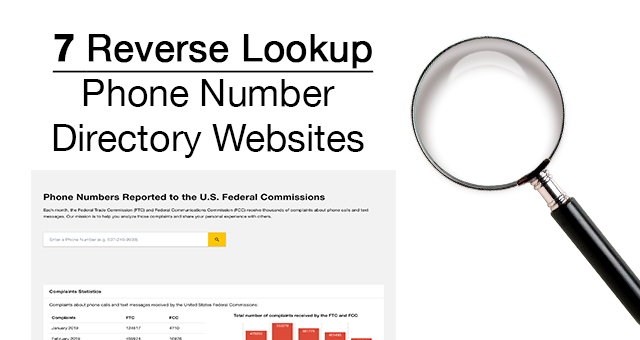 7 Free Reverse Phone Number Lookup Directory Websites (Updated 2020 Version)
What is a Phone Number Lookup Directory?
A reverse phone number lookup directory website allows you to search a community-curated directory of various phone numbers, and lookup phone numbers that may have called you. These communities are usually quick to spot a scam call, and will enable you to find out more details about a phone number than you normally would by paying for a reverse phone number lookup service. All of the directory websites outlined within this guide are free to use, and won't cost you a dime!
These directories are usually anonymous, but some of them allow you create an account, and post details about a phone number who called you to share with other members of the site as well. Some websites have extra features like call recording upload, a "safety score", and additional details about the caller too.
1. BestFreePhoneLookup.com – Lookup any phone number – for free!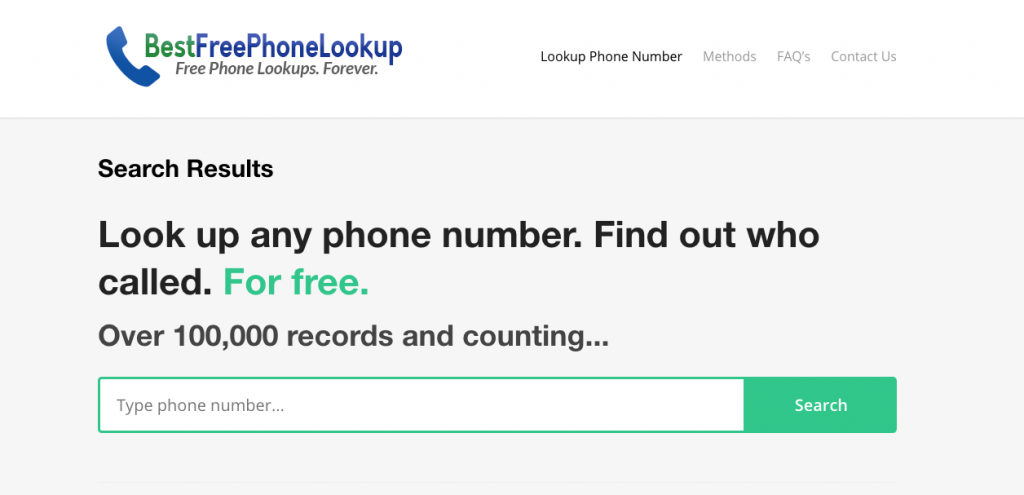 BestFreePhoneLookup.com has built a powerful search engine which scans the internet for the caller name of any phone number, and the best part is that it's completely free to use! Simply head over the phone number lookup tool and enter your phone number that you would like to search. You may be prompted to enter a CAPTCHA code (to protect against spam), and then you will be taken to the results page, which will display the caller name, phone number, location, and carrier that the called used to place the call.
This is the only free method to lookup a phone number online – there is no cost to use this service, and you can enter as many phone numbers as you like!
Check out the tool today: Reverse Phone Number Lookup
2. Lookify.io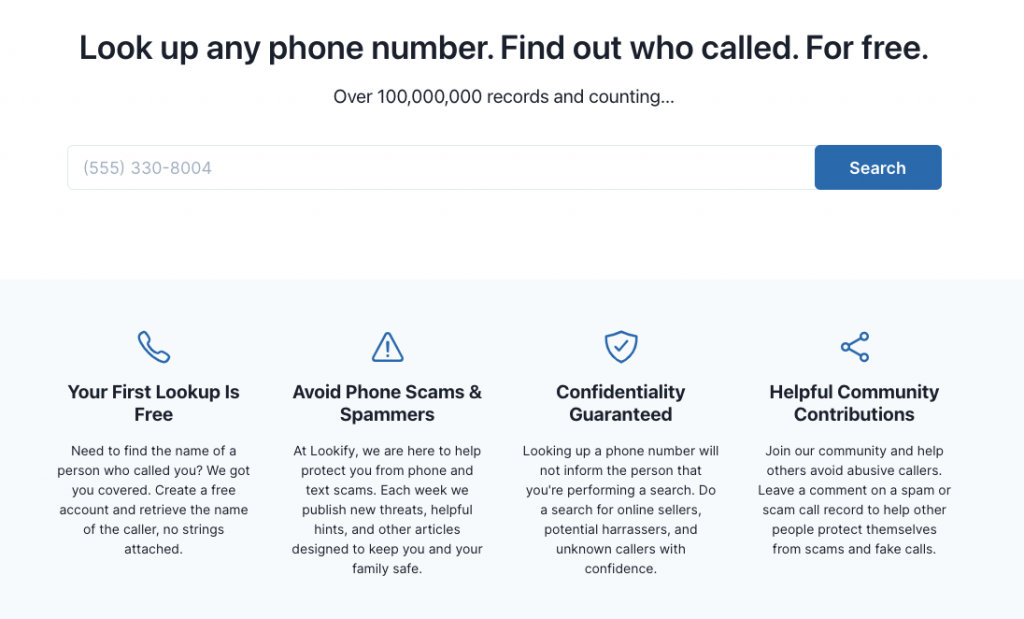 Lookify.io is a reverse phone number lookup service which provides you to lookup the full name of the unknown caller (requires free account). In addition, Lookify shows you a map of the callers' area code associated with their phone number, and allows users to report phone numbers that are malicious or dangerous.
Lookify provides a paid membership option for multiple phone number lookups – your first reverse phone number lookup is completely free! Improvements to this service are being made each week – we think this is the best phone directory to watch.
3. EveryCaller.com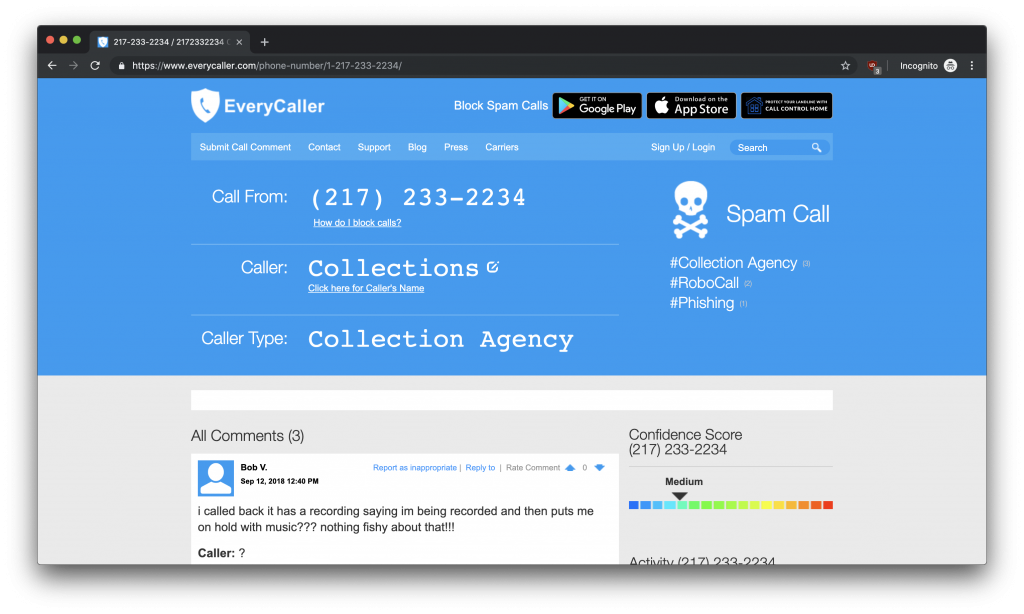 EveryCaller.com is a modern phone directory website which has features making it easy to categorize callers as spam or robocall, among other "tags" that can be added to the phone number as well. It has a fresh and modern design making it easy to navigate. Within each results page, there is also a confidence score which makes it easy to tell whether or not the information about the call is accurate or not.
In addition to the confidence score, there is also the ability to upload and listen to a call recording with the number itself. This is a great feature to tell if you received the same caller as others, and allows you to screen calls to your phone before you pick up and answer. The ability to report a call as Spam alerts other callers that the number may not be trustworthy.
One of the downsides of this site is that there are multiple pop-up windows scattered throughout the website which makes it difficult sometimes to read the content on the screen. With that said, it's still a great reverse phone number directory, and the free features on this site will be very useful in finding out more information about the person who called you.
4. ReportedCalls.com – Phone Numbers Reported to the U.S. Federal Commissions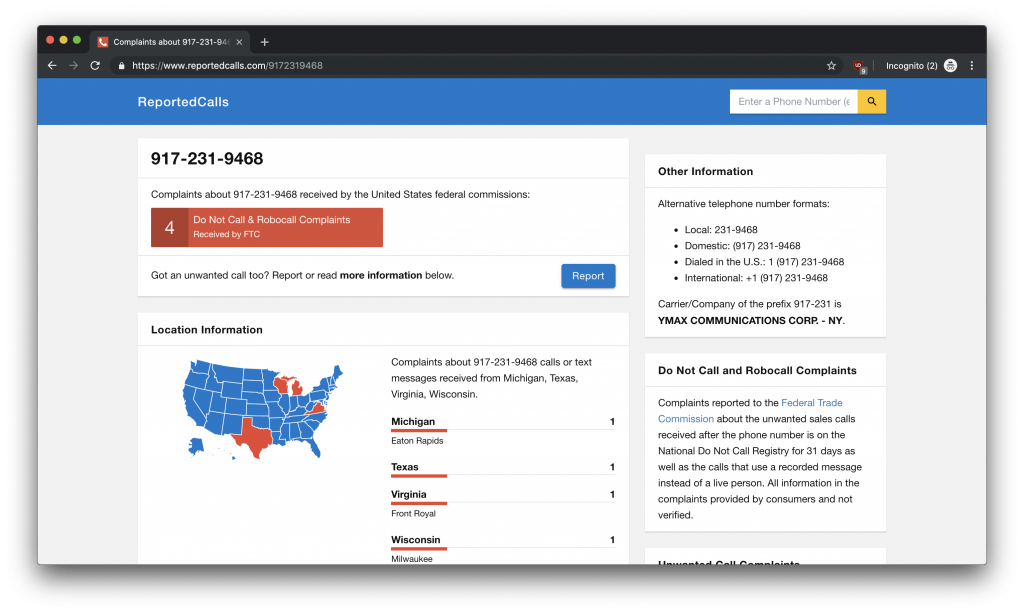 ReportedCalls.com is an amazing website that scrapes data from the U.S. Federal Commissions websites and other government sources, and compiles that information along with user-generated comments for you to easily search for other phone numbers that might have been reported to the Federal Trade Commission (FTC) or Federal Communications Commission (FCC).
The website allows you to freely search for a number and view the number of official complaints filed against it. You can look on the right hand side of the results page to see who the dialer has been identified as, and also leave a comment at the bottom of the page. The ability to see metrics related to the call such as the call subject (e.g. a phone call pretending to be the US government, a business, or spam caller) and details about whether or not the call was a robocall or recorded message is very useful for anyone looking to find as much information as possible.
All lookups on this website are free of charge, and make navigating the public data much easier than trying to find this information with the federal websites which collect this data themselves. While there isn't the ability to create an account or discuss the phone number besides leaving a comment, it's a great place to find out who else in the US the number has called using the map feature on the results page as well.
5. WhoCallsMe.com – Phone Directory and Reverse Phone Lookup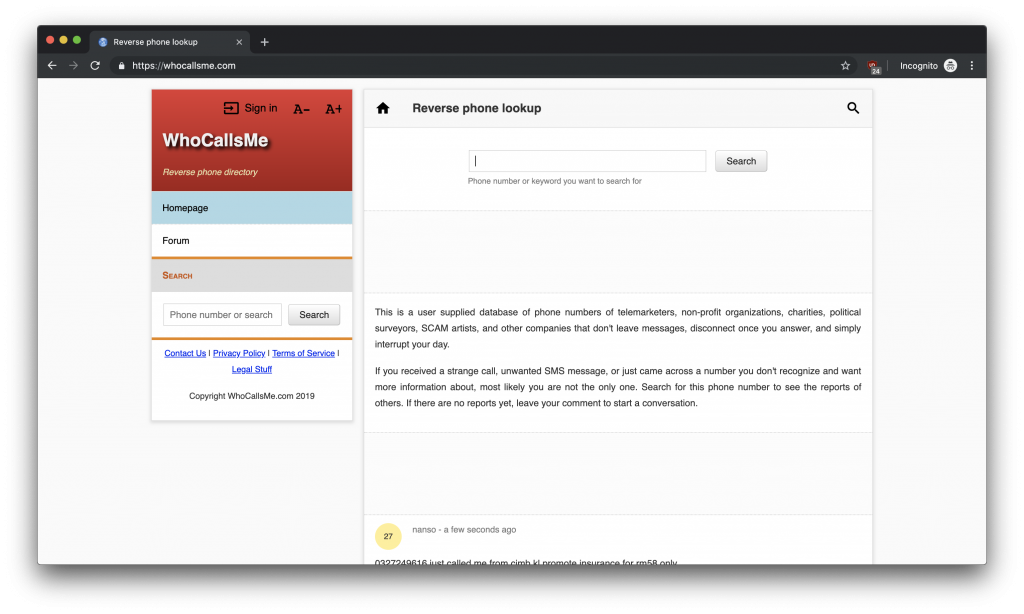 WhoCallsMe.com describes itself as a "free reverse phone number lookup database built by its users", and it stands true to that message even to this day. The website allows you to create an account and leave a comment next to a phone number that you have information about, and is a great way to lookup scam callers, given the number of entries that they have.
The website has many comments and even a dedicated forum board where you can start a discussion about the phone number of someone who called you. It's excellent for finding discussions about spam and scam callers, and has a search function too if you want to just lookup a number to see if you should answer it.
WhoCallsMe.com is completely user-curated, and includes numbers not just from the United States and Canada, but Australia, England, and other countries as well. If you do end up searching for a phone number on the site and it returns an empty result, be sure to leave a comment for the next person and give back to the community.
6. CleverDialer.com – Protects you from Spam calls – stops cold callers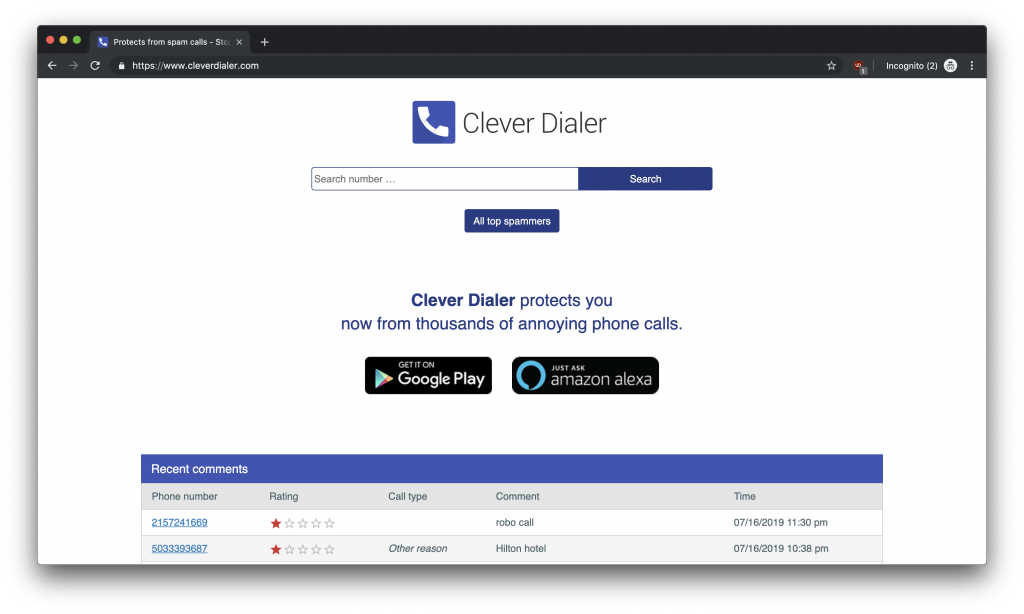 This easy and straightforward reverse phone number lookup directory has a search function and star rating from 1-5 stars for each number within the database. It provides details about the caller as well as the ability for a person reporting the number to determine if it's a landline or mobile phone number. The website includes a mobile app and an Alexa app so you can lookup phone numbers on the go as well as at home!
CleverDialer.com also allows you to see an "activity" section next to each phone number which indicates the number of times within the past 30 days that the call has been reported to the site. A handy tool if you need to see if the caller is still active or not.
7. CallerCenter.com – Consumers helping consumers fight phone spam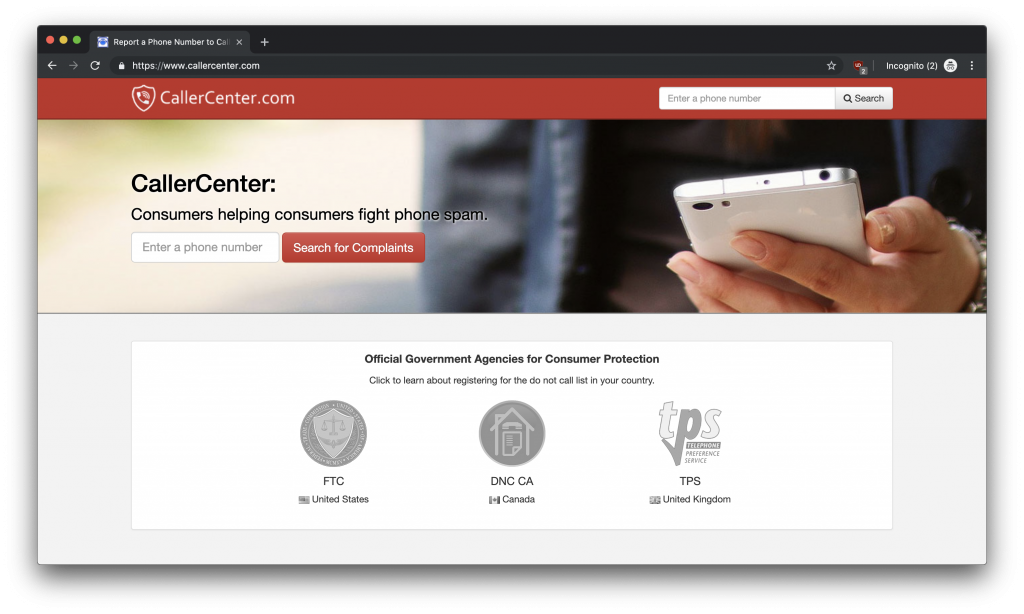 With an impressive collection of over 900,000 independent consumer complaints regarding unsolicited phone calls as well as over 16 million Do Not Call list violations, CallerCenter.com is a massive directory which includes many phone numbers from all over the world.
The site is designed to allow you to search for complaints, while also letting you lookup phone numbers from it's vast database. It has a complaint level to indicate the number of complaints against the number you're search for, and shows you information about caller ID and the caller name. You can also check to see if the caller type is related to a scam or fraud on the results page for each phone number.
8. FindWhoCallsYou.com – Phone Lookup Service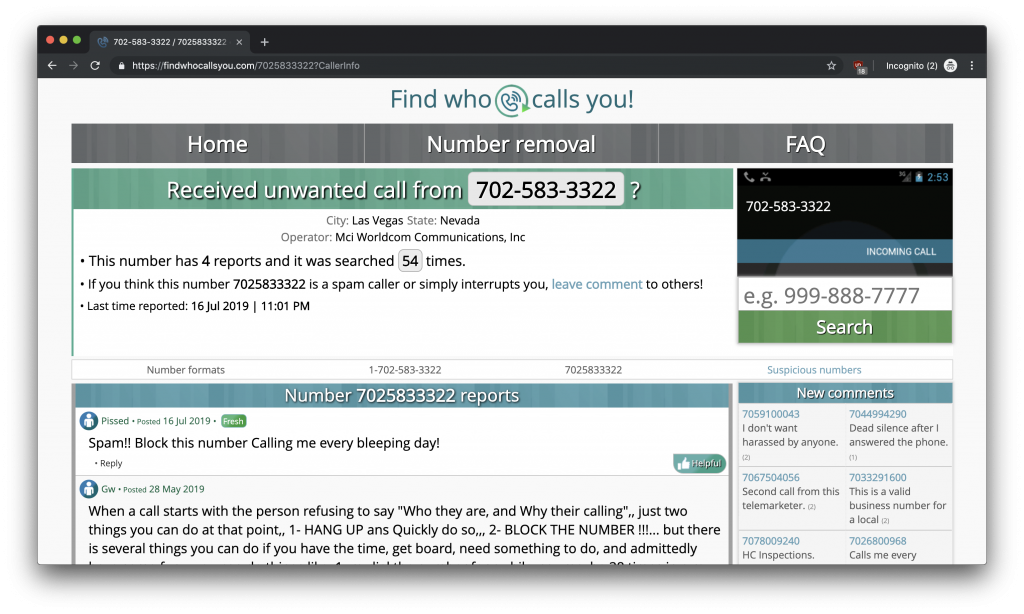 Unique features of this site include a curated list of suspicious callers, along with a way to check when the number was last reported. There is also the feature which tells you how many times the number has been searched for, which is great if you want to see how many people are also looking for information about the unknown caller, without having left a comment.
You can leave a comment as well, including a call type. Users have the ability to "thumbs up" numbers on FindWhoCallsYou.com that have been reported so that people who are also searching for information about the phone number can see which answer is best.
9. Who-calledme.com – Free Reverse Phone Lookup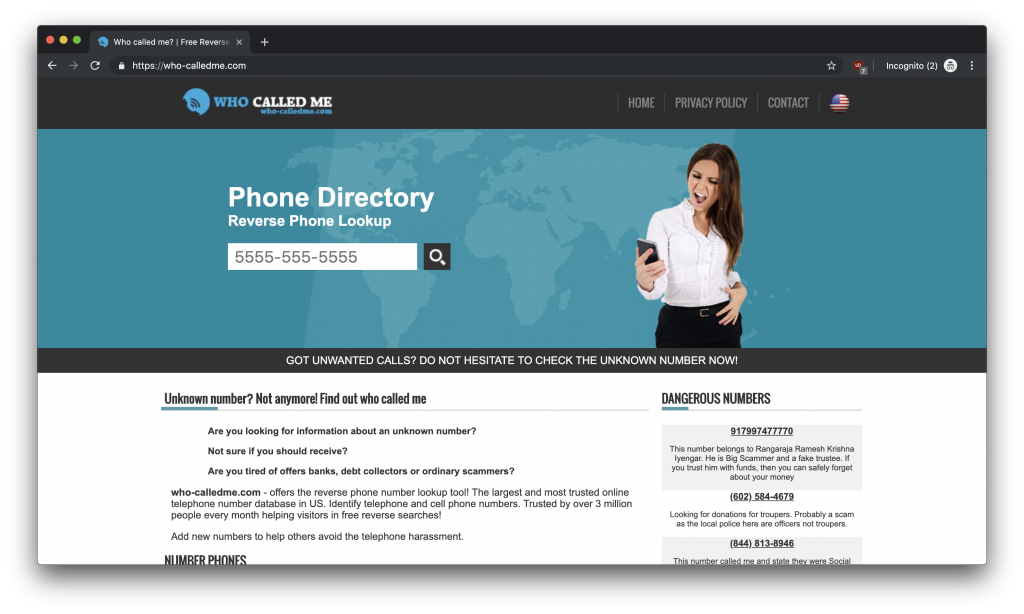 Who-calledme.com outlines recent searches and an "average rate" – which indicates if the number is dangerous or not. You are able to leave comments on numbers reported to the site, or report a number yourself. When you submit a comment about your experience with the number, you can also outline specifically if the number is safe or not, informing future viewers about your experience with the unknown number.