Best Call Blockers to Stop Spam and Scam Phone Calls

No one likes to receive phone calls in the middle of dinner or late at night. What's even worse is when elderly family members receive phone calls from phone scammers trying to trick them into sending money overseas. With a call blocker device, you can drastically reduce the number of harmful phone calls in order to regain your sanity from those pesky scam and spam callers!
Before you begin, it's best to become familiar with how to spot a spam or scam call – usually these calls come from a fake caller ID. The devices below will help you block calls to your landline or VoIP phone, and are ranked in the order of most recommended to least recommended.
What is a call blocker?
A call blocker is a device that usually is plugged in between your phone line and your phone itself, without having to go through and make any modifications to your current home phone. A call blocker screens calls as they come in to check to make sure they are not spam or scam calls. Most call blockers allow you to block calls with just the push of a button, and the more advanced call blockers have internal blacklists which come pre-installed to filter out the worst callers. There are many different types of call blockers on the market – take a look at some of our top recommendations below!
1. Sentry Call Blocker Version 3.1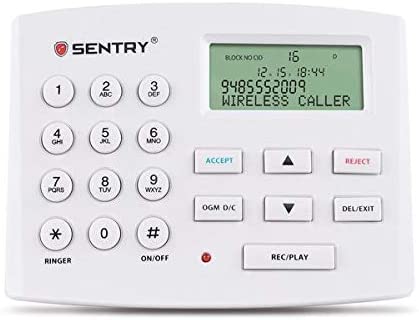 The Sentry Call Blocker works with any works with most POTS (analog telephone service), Digital, and VoIP. Designed to actively filter out robo calls, election calls, telemarketing or any solicitor calls – there is no need to block each number – Sentry does that for you. The Sentry call blocker has a unique feature to screen incoming calls: First is a digital voice warning message, that tells solicitors to leave and hang up the phone, and tells legitimate callers to continue by pressing 0. If a solicitor presses 0, you can add them to the block list which will prevent them from calling ever again. Comes with a 1 year warrantee.
2. CPRV10000 Call Blocker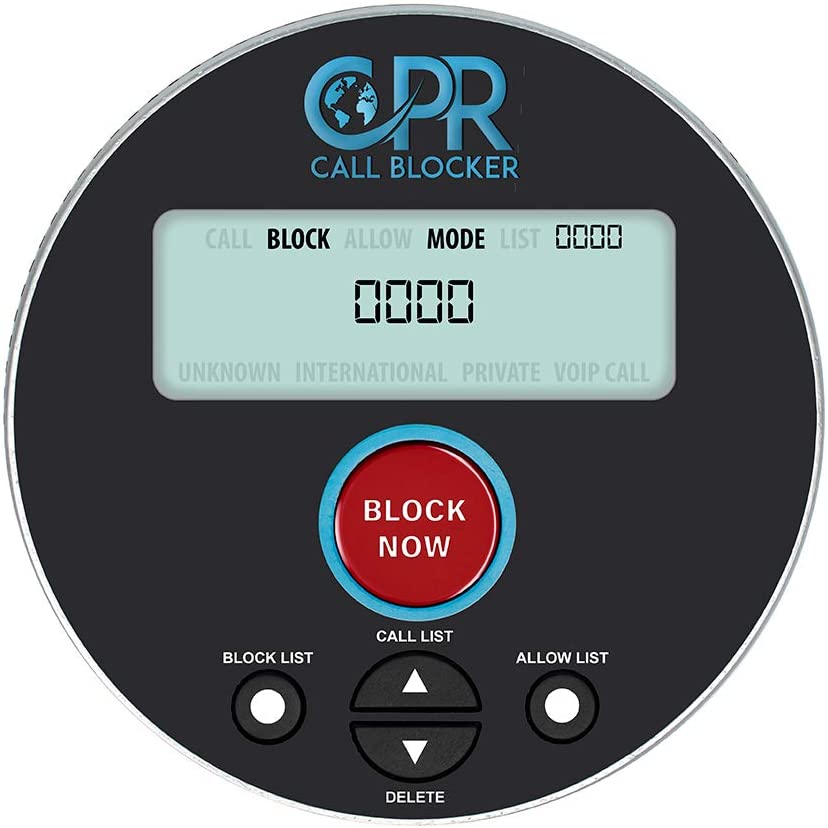 The CPRV10000 Call Blocker is the third iteration of call blockers from CPR, which has a pre-loaded blacklist of over 10,000 spam and scam phone numbers, ensuring that they are automatically blocked. In addition, you have the ability to add an additional 2000 numbers to this list by just pressing the "block now" button directly on the device. Uses power directly from your phone line and is compatible with all US landlines and home phones. Member of FCC Robocalls Strike force
3. Digitone Call Blocker Plus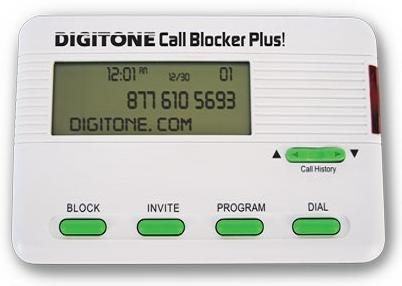 The Digitone Call Blocker Plus is one of the best call blockers on the market, due to it's built-in back-lighted Display. Calls ring through like normal with repeated Caller ID to All Connected Phones. The Digitone Call Blocker Plus is effective at blocking of Fake Exchanges of 111 and 000, Instant Hang-Up of Unwanted Calls, Block Specific caller names or numbers, and can even block entire Area Codes or Exchanges. Works on all analog phone lines with DSL, FIOS, Cable Modems or VoIP to Analog Phone Company Services.
4. PRO Call Blocker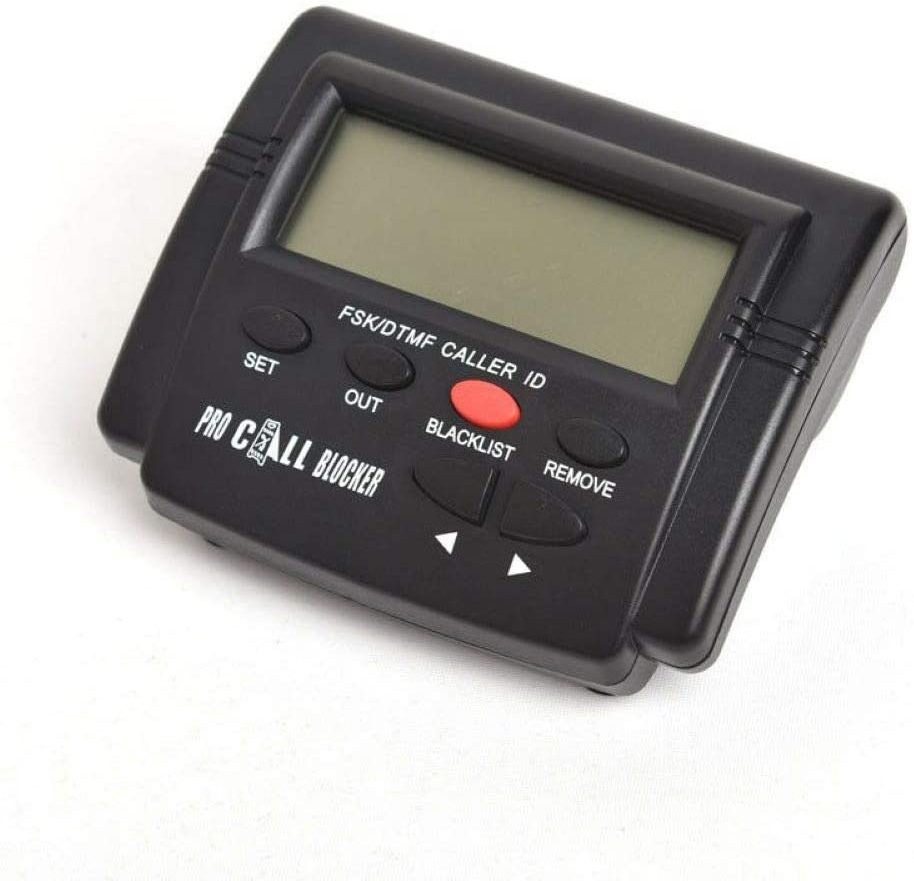 The PRO Call Blocker has an LED screen that is not backlit, but the red button for blocking a call is very easy to find and use. If you happen to miss a call that you want to block, just scroll through the recent calls and hit the red button. Super easy to use! The device is easy to set up and comes with an instructional video to guide you through the process – most users say it takes less than 30 minutes to set up the phone call blocker for the first time.
5. T-Lock Call Blocker Tool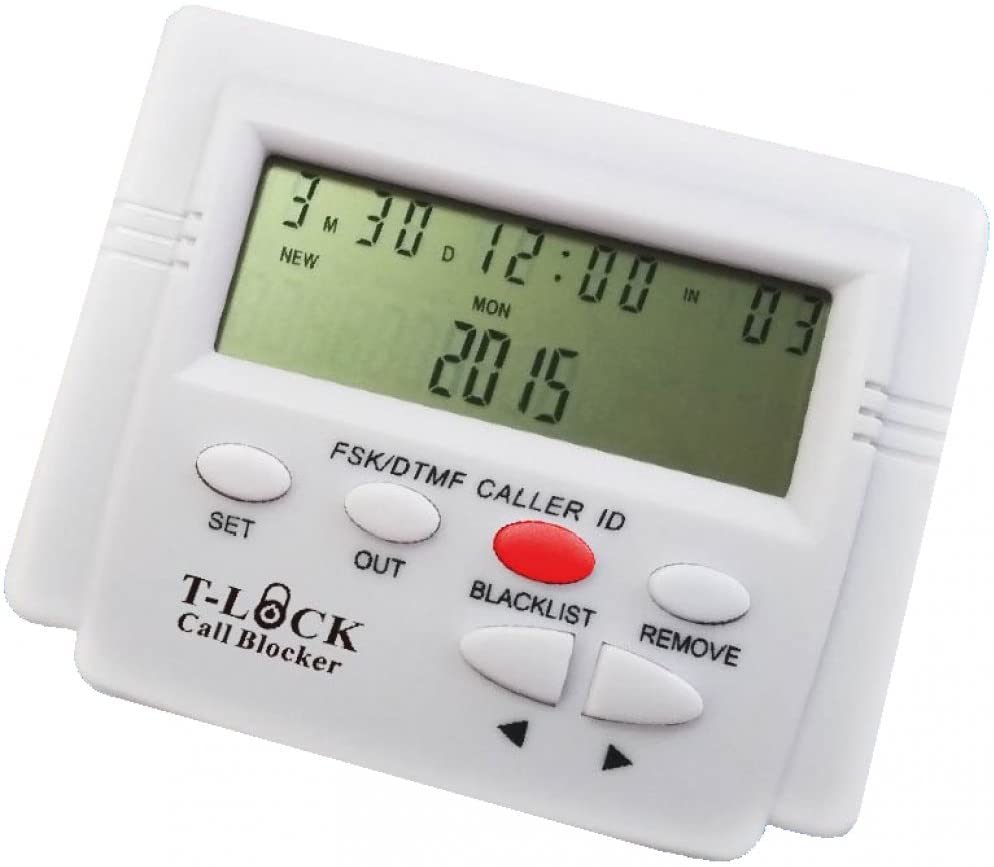 The T-Lock Call Blocker blocks up to 1,500 incoming / outgoing telephone and fax numbers (up to 16 digits each), with up to 10 area codes or prefixes.
The device itself stores up to 100 telephone numbers as incoming calls, and 50 as outgoing calls. Phone line powered! Which means there are no external power or batteries required. With a password-password protected Blacklist (to prevent erasing blocked numbers), you can rest assured that your calls will be blocked if you add them to the blacklist on the device. Great for home or office use!
6. Telezapper by Privacy Technologies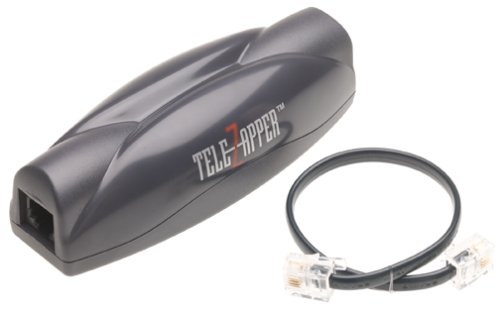 Here's how the Telezapper works: With more than 90 percent of telemarketing calls placed with computer assistance (referred to as "robocalls"), when either you or your answering machine answers the phone, the Telezapper emits a special tone that tells the robocallers that your number has been permanently disconnected. Telemarketing companies that use automated dialing systems typically remove disconnected numbers from their calling lists, and as your phone number is eliminated from more and more telemarketing lists, you'll notice fewer calls. Of course, not all telemarketers use predictive dialing systems, and those that do will undoubtedly work to evade the Telezapper.
7. Ooma Telo VoIP Free Home Phone Service w/ Call Blocker

An Ooma Telo allows you to easily install in just minutes; and works with your high-speed internet and any home phone. This two-in-one device allows you to get crystal-clear nationwide calling for free. You pay only monthly applicable taxes and fees. You can block robo-calls and other unwanted callers with the one-touch Do Not Disturb and Send to Voicemail buttons. While the device doubles as a phone, the great part is that Ooma's adaptive redundancy feature detects packet loss and automatically sends redundant packets for better sounding phone calls and fewer dropped calls.
Want more call blocker options? Check out the chart below for all reviews:
Product Picture
Call Blocker Name
Short Description
Product Rating
Call Blocker Price

Call Blocker CPRV5000

Top of the line when it comes to reliability and performance.

9/10 Stars

Read Full Review

Check Current Price

Sentry Dual Mode Call Blocker

It recognizes the friendly numbers (White List) and let them in, it recognizes spammers (Black List) and hangs up on them.

9/10 Stars

Read Full Review


Check Current Price

Ooma Telo Phone + Call Blocker

Unparalleled Blacklisting features to block telemarketers and other unwanted callers

8/10 Stars

Read Full Review

Check Current Price

CPR Call Blocker V202

Device works as expected, but better options (and a newer version) is available. May not be supported via supplier.

8/10 Stars

Read Full Review

Check Current Price

CPR Call Blocker V108

As mentioned above as well, there are no known problems with the device, but newer models are available.

7/10 Stars

Read Full Review

Check Current Price

CID Incoming Call Blocker w/ LCD Display

This device is capable of blocking up to 1500 different numbers including numbers up to 16 digits.

7/10 Stars

Read Full Review

Check Current Price

Landline Call Blocker Version 6

High Volume Blocking Capacity: Block up to 1,000 unwanted phone numbers, with easy one-button blocking capabilities

7/10 Stars

Read Full Review

Check Current Price

Pro Call Blocker Newest Version 2.2

Blocks up to 1,200 unwanted phone calls, and 10 area codes. Works with land lines, VoIP, DSL services, and digital voice services

6/10 Stars

Read Full Review

Check Current Price

TeleZapper TZ 900

This device is capable of deciphering between wanted and unwanted calls allowing the customer to receive the calls they want to receive.

5/10 Stars

Read Full Review

Check Current Price