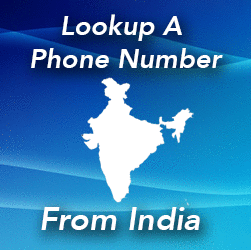 How to Lookup a Phone Number for Free in India
India has the second largest telecommunications networks (both fixed and mobile) in the world. In just ten years the industry saw year on year growth expanding from 38 million users in 2001 to nearly 848 million in 2011. It also boasts some of the lowest call tariffs in the world. This is mainly due to large telephone networks creating a frenzy of hyper-competition in the rush to gain market share in a rapidly expanding sector.
Looking up a phone number from India is a relatively straightforward process but more detailed results can prove more of a challenge. It is against the law to provide the name and exact address of the owner of a mobile number as to do so would be a breach of India's Privacy Laws.
There are numerous websites that will allow you enter the phone number you want to look up and then provide some general information about that number.
These websites will usually provide you with the following information:
Type of Phone Number (fixed/mobile)

City

Country

Phone Carrier
You can retrieve this info from an Indian phone number by using our free reverse phone number lookup service, visiting any of the following links:
To use any of these free services, simply enter the phone number you want to trace in ten digit format. For example, (+91) 95670 98914 would become 9567098914.
More Detailed Searching For a Number
For more detailed searches results TrueCaller is the best alternative around that does not require any additional up front payment. Needless to say, any website that does is to be avoided at all costs.
This can be accessed through the TrueCaller homepage or by downloading and installing their App for iOS, or Android.
Mobile Networks in India
Between January 2009 and May 2012, the number of mobile subscribers grew from 350 million to over 929 million. This number is expected to rise above 1 Billion in 2016.
GSM maintains a key position as the dominant mobile technology: 80% of the mobile subscriber market. CDMA holds the remaining market share at 20%.
Major Mobile Carriers (India):
Bharti

Reliance

Vodafone

Idea

BSNL (Public)

Tata

Aircel

Unior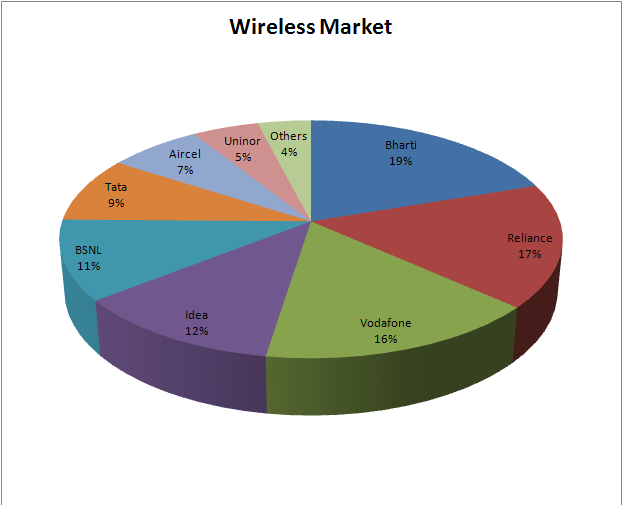 Wireless Telephone Market Share In India
Fixed Line Networks in India
In 1999 the Indian Government announced a new telecom policy. Prior to this only the Government-owned BSNL and MTNL could provide land-line phone services, mainly through copper wire connections in India with MTNL operating in the major urban centers of Delhi and Mumbai and BSNL servicing the rest of the country.
Landline service providers are facing strong competition from mobile operators. This has lead to an increased investment in existing infrastructure in order to become more efficient and to improve the overall quality of service. Land-line connections are now available on demand throughout the country including high density urban areas. At present India has over 35 million main line customers*.
(*as of 2015)
Understanding the Area Codes for Fixed Line Phone Numbers.
The international prefix for India is (+91). All domestic numbers in India (fixed and mobile) have 10-digits in total. The first three numbers indicate the area code. Tier 1 cities such as New Delhi and Mumbai have two digits while Tier 2 cities like Jaipur have three digits.
New Delhi: 011

Mumbai: 022

Jaipur: 141
The major carriers are also assigned a number prefix:
2 – BSNL and MTNL (Public Telecom Companies)

3 – Reliance Communications

4 – Bharti Airtel

6 – Tata Indicom
Therefore a phone number formatted as 022-30347569 means a fixed lind Reliance number in Mumbai. In addition, Telemarketers have been issued 10-digit numbers beginning with 140 by the Department of Telecommunications at the request of the Telecom Regulatory Authority of India (TRAI).