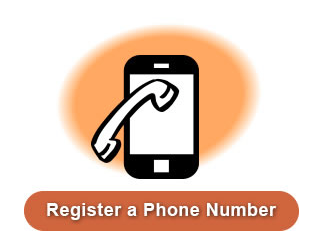 How to Prevent Marketing Phone Calls – Do Not Call Registry
The National Do Not Call Registry is available for all USA citizens, where you can enter your phone number and opt-out of telemarketing phone calls. It is managed by the FTC (Federal Trade Commission), a government organization that deal with all types of consumer privacy and safety issues. Keep in mind that this will not totally end the marketing calls you receive, but it should be able to limit the calls you receive down to a minimum. The amount of time between entering your phone number with the list and when telemarketers will stop calling is usually two to three months. If you want to learn more about the Do Not Call registry, the people behind it, and how it helps you, you can visit the main website here: Do Not Call Registry Info.
Here is how you can register your phone with the National Do Not Call Registry:
Head over to https://www.donotcall.gov
2. Click on "Register a Phone Number" image
3: Fill out the information in the info boxes, make sure to include an email address because you will need to infirm it at that email later. It is also very important to double check that you have entered the correct phone number in the "phone number" field.
4: Check for errors on the next page to ensure you entered the information correctly.
5: Go and check your email account for a message from the sender "[email protected]" Open the email and there will be a link that you need to click in order to complete your registration. After you complete the registration your phone will be added to the do not call registry.
Did this work for you? Leave a comment below if it did!