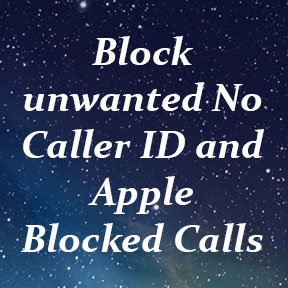 Method: Block No Caller ID or Apple Blocked Calls

A common call on many iPhones and Apple devices is the "No Caller ID" call that could be anything from a telemarketer to a unwanted abusive caller. This is a new feature that is only available in iPhone with iOS7, iOS6 users will find that instead of receiving "No Caller ID" message, they will get a "Blocked" message instead. While it's not clear why Apple made this change between the two operating systems, the message stands clear: If you receive a call that says either "Blocked" or "No Caller ID", the person on the other end took steps to block their identity. While this can be annoying to the person receiving the call, it can easily be discovered who called you by downloading a simple app, or using one of the services we have listed below, in order of what we reccommend:
1: TrapCall

Our #1 recommendation to ensure that you are always able to block a No Caller ID call is TrapCall. TrapCall is an awesome service that was launched in 2009 that essentially unmasks the identity behind the unknown caller. This is a PAID service that requires you to have either a yearly or monthly contract in order to use their service. However, if you are unsatisfied with the service or it doesn't work, contact TrapCall and they will work with you to ensure your complete satisfaction. The service works by using the company software to trace the call back to the carrier or landline, ensuring that the call is unmasked and presented to you, the person being called, right when your number is dialed. There are three different payment plans, each with different features. The TrapCall subscription also enables you to record the call as well, and also blacklist certain numbers from your phone regardless of whether they try to block the number or not. There are a ton of extra features besides just blocking no caller id calls, it also works on almost every type of phone, Android and Apple, as well as certain mobile phones.
2: Call Unblock – Blocked Calls
This service has had a few bad reviews the past few months due to errors in the app, but if you have an iPhone, you can download the CallUnblock App and purchase a  subscription to find the number behind a blocked call. An important note is that the service only works with the following carriers:
Sprint
AT&T
TMobile
Verizon
If you have a carrier that is not listed above it is not recommended that you use this App because your carrier is unsupported. In addition, be sure that you read the app details about he features of the app, some people have complained that the app did not do what they had originally intended because they misread the app description. There are four different subscription levels, the cheapest being $3.99/month.