Review: CPR Call Blocker V202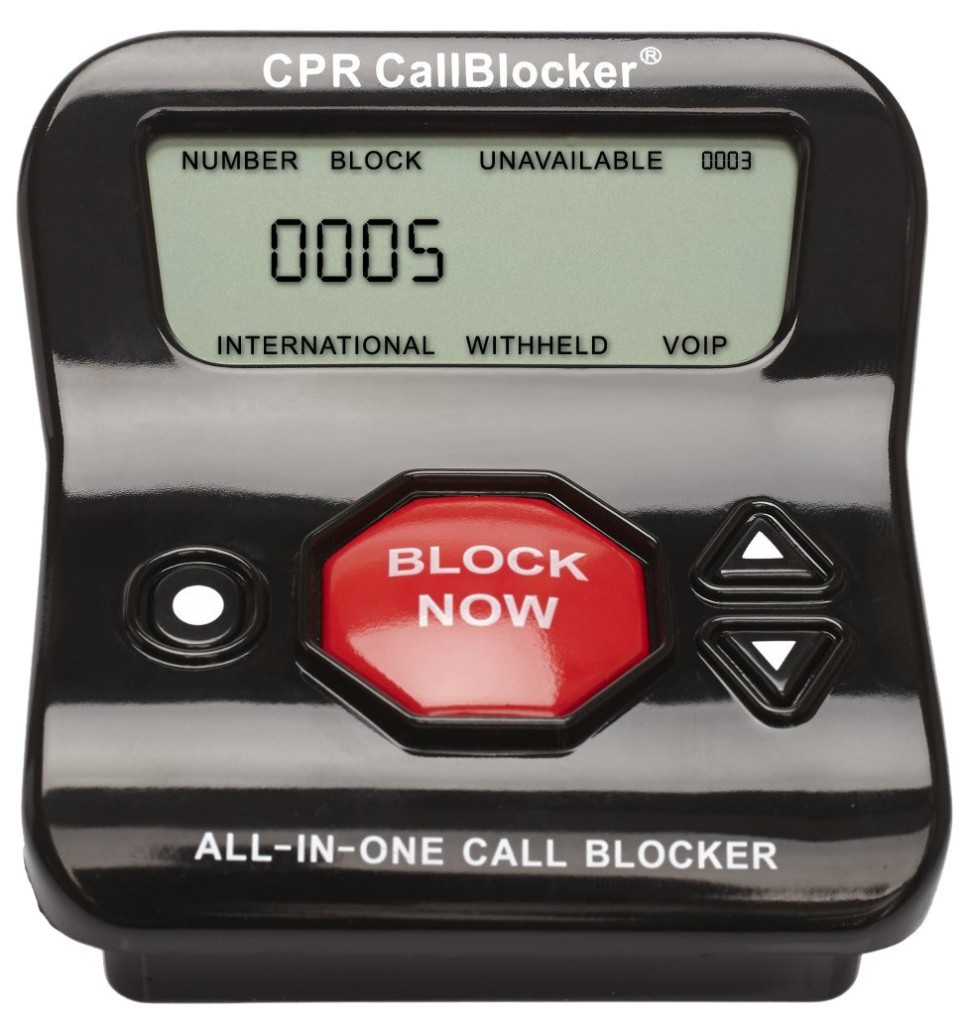 The CPR Call Blocker V202 is designed to block all unwanted calls from telemarketers, solicitors, credit card companies, political calls or any other type of unwanted callers. It is able to block up to 1200 different numbers, and is delivered pre-programed with 200 known spam numbers by the Call Prevention Registry. With the ability to block entire area codes, un-marked callers, or international callers this device will successfully do its job regardless of location. The CPS Call Blocker features a 3 caller display screen, and a large "Block Now" button located on the device to make for simple usage. Not only can customers use the "Block Now" button to block calls, but users are now also able to use a DECT extension headset for ease of use. The CPR Call Blocker V202 is equipped with both "up" and "down" arrows on the device for easy maneuverability within the display. You'll see very shortly why it's one the best call blockers available today! 
Pros:
Includes 200 pre-programed blocked numbers on the device.

Able to block entire area codes, un-marked callers, or international callers – it virtually eliminates any type of spam call, especially from regions of know telephone spammers or scammers.

Customers can use DECT headsets to block unwanted callers, not just the device itself.

Easy maneuverability within the device display including its "Block Now" "Up" and "Down" buttons located on the device. Easy to use and understand even for non-technical individuals.
Cons:
Display does not include any LED, or LCD display making the display hard or barley visible at night.

Some customers have reported that the device itself didn't get delivered with the 200 blocked numbers pre-programed.

This device is higher priced than some of its other competition.

Some people in the US said that there was difficulty connecting the device to their phone, however keep in mind that the CPR Call Blocker comes with a free support site in order to assist you with the setup process and any questions you may have. 
Here is a video of how the call blocker works:
Overall Rating:
9/10
The CPR Call Blocker V202 is an very effective device to block calls from unwanted spam or telemarketers. Making the device simple yet effective allows for a user friendly experience for all ages and experience levels. Although being a slightly more expensive model the extra money spent on this device is money well spent. The inclusion of 200 pre-blocked numbers makes this device that much more elite, especially for customers who receive repeated calls from the same types of spammers. Troubleshooting for the device is easy – by either using the given support phone number, support email, or online forum finding the solution to your problem where you can ask the community and share information. Although there have been a few reviews complaining on how the product was glitching, or delivered without its 200 pre-blocked numbers the overall reviews are overwhelmingly positive. This device is highly recommended towards people or businesses who wish to avoid those pesky spam calls, with thousands of reviews online this device is well tested and well proved.