Review: Digitone Call Blocker Plus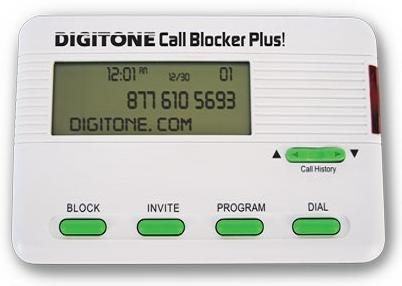 The Digitone Call Blocker Plus is designed to block all unwanted calls from telemarketers, solicitors, credit card companies, political calls or any other type of unwanted callers. This device is extremely common among commercial businesses due to the fact that it can block faxes, although it is also used and loved by individual consumers. The Digitone Call Blocker Plus includes a three line display showing the name, number, date, and time as well as calls. With the ability to block entire area codes, or individual numbers this device will successfully do its job. The display panel includes a "Block", "Invite", "Program", "Dial", and "Call History" buttons that allow for a fair amount of maneuverability within the device, after taking some time to get used to the different features.
Pros:
Allows for businesses or individuals to block unwanted faxes.

Works great with Comcast Xfinity, and other service providers.

Includes an red LED light on side that flashes when receiving a call so you always know when someone is calling.

Customers originally disappointed with the Digitone Call Blocker Plus were overwhelmingly happy with the amount of feedback and help they received with their problem.

Works throughout Canada, Mexico, and all of the United States regardless of phone company.
Cons:
Some customers report the Digitone Call Blocker Plus having trouble connecting with AT&T's system.

Difficult to read the screen at night due to the lack of a LCD display, only the red LED notification light will be visible.

This device is higher priced that some of its competition due to the fact it can block faxes and other functions.
Overall rating:
9/10
The Digitone Call Blocker Plus is an very effective device to block calls from unwanted spam or telemarketers. Not only does this device block calls from other phones but has the ability to block faxes, a feature not many of its competitors have acquired. The display of this device is fairly easy to learn and understand, although some customers have reported originally it was a bit confusing. Some customers complained how the system was having difficultly working with AT&T, although eventually sorted out the problem with a few minor tweaks. Many of the individual customers found the customer service to be excellent, if no help was provided on the forum the phone number for customer support was found to be extremely helpful. This device is recommended for businesses or commercial use, although is a perfectly viable option for an individual willing to spend the money for the extra features.