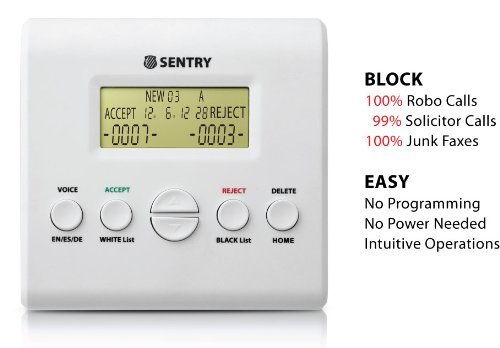 Review: SENTRY Call Blocker 3.1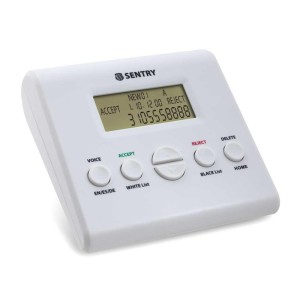 The SENTRY 3.1 Call Blocker is advertised to "block all robo, spam, and telemarketer calls" with 100% accuracy. With a 9999 number capacity you should be able to rely on this device to work for a very long time. There are two modes, Basic and Advanced. Basic blocks all calls it identifies as robocalls and sends them to the blacklist, without alerting you that there was a spam caller. Advanced Mode screens all incoming calls that are not in your directory, and has an automated message that tells the caller to hang up and remove the number from their list if they are a telemarketer. It also gives the caller the ability to press "0" to allow the call to go through.
Pros
Blocks most telemarketer calls and spam messages

Efficiently screens from election calls and solicitations

9999 max number list is enough for any individual and small business

Whitelist enables people you want to hear from to go directly through and ring for you to pick up
Cons
Customers have reported issues with some donation callers, such as hospitals an other donation solicitors

Automated voice becomes slurred after a few months on some models, may be a issue with the individual device itself and not necessarily reflects that the device as a whole is broken. Only a few users have reported this issue. 

If you own a business, you may not want your customers to hear the "please leave if you are a telemarketer" voice. 
Overall rating:
8.5/10
The SENTRY Dual Mode Call Blocker does exactly what advertises, which is blocks all incoming telemarketer calls and screen the calls so that you don't have to answer every phone call that comes through. As a few downsides such as the stern voice telling potential customers to hang up if they are telemarketers may lost you some business, so it's recommended specifically for those who want to use the device with this business.
Here is a video of the device in action:
Please Note: Best Free Phone Lookup is a registered member of the Amazon Affiliate service, which means that we receive a commission off of every sale. You can read more about what this means in our privacy policy.