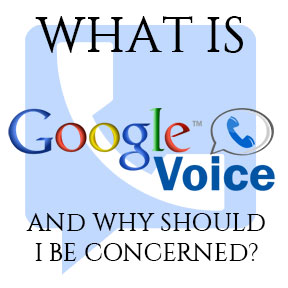 Overview of Google Voice:
Google Voice is a telephone service that is offered by Google. Originally it was only available via invite to a certain group of users. As of today, Google Voice is available to all Google account holders located within the United States and countries abroad. While placing calls is free from within the United States, there are fees associated with long distance overseas or heavy usage of the service. More details of these fees can be found here: Google Voice Fee Structure
Why Google Voice is Important:
Google Voice can be used to make phone calls to your home or cellphone from a "fake" number that is chosen at the beginning of using the service when the caller sets up their account. This "fake" number can be chosen to look like appears from anywhere in the United States, tricking the person who is being called into thinking that the call originated from within the United States. Telemarketers use this service sometimes when they want to call a person over and over without fear of law enforcement. Sometimes stalkers will use Google Voice as well to annoy or harass their victim. Just because the caller ID says the call was placed within the United States does not mean the call originated there.
Here is an example of someone changing their Google Voice. This can be done as many times as the other caller wants. (There is a charge of $10 each time to change your Google Voice number).
Since most telemarketing calls that use Google Voice are located overseas, there is no reason for them to change their number. They will just continue to keep calling until you buy their service or fall victim to their scam. Scammers use Google Voice sometimes when doing business on Craigslist because Google Voice is notoriously hard to track down by law enforcement.
How to find out if a caller is using Google Voice:
Use the Google Voice Call Identification Guide in order to find out if your caller is using Google Voice, you can find that method here: Method: How to find out if the unknown caller is using Google Voice (coming soon)