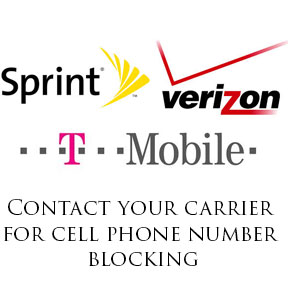 How to contact your carrier to request phone number blocking
Did this help? Share this site with others!
If you have a caller that just won't stop calling you no matter what, and you don't care who it is but just want it to stop, the best way to go about blocking their number is by calling your carrier. Below is a list of common cellphone carriers with phone numbers to reach them. It also has a script that you can read off to them if you don't know what to say. This is not a 100% guaranteed method, ever cellphone carrier is different, but if anything it should get you in contact with the carrier and alert them of the issue.
---
List of Cell Phone Carriers for the USA with Contact Information
Sprint
P.O. Box 8077
London, KY 40742
888-211-4PCS
Verizon Wireless
800-922-0204
P.O. Box 19769
Irvine, CA 92623-9769
AT&T
800-331-0500 or 800-888-7600
P. O. Box 68055
Anaheim Hills, CA 92817-8055
T-Mobile
800-937-8997
P.O. Box 37380
Albuquerque, NM 87176-7380
US Cellular
888-944-9400
9375 Burt St #200
Omaha, NE 68114
US Cellular
888-944-9400
9375 Burt St #200
Omaha, NE 68114
Virgin Mobile
888-322-1122
The Battleship Building
179 Harrow Road
London, W2 6NB
England
---
Sample script of what you can tell your cell phone carrier:
"Hello, my name is _____, and I am receiving multiple calls from a number that is bothering me or being harassing, I would like to block that number from calling my phone, can you help me with this?"
Now what you're looking for? Try this article instead: Method – Reverse Phone Lookup using Google