Review: CPR Call Blocker V108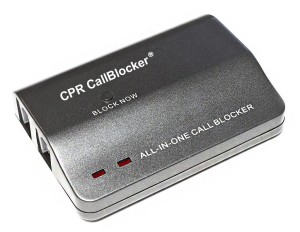 The CPR Call Blocker V108 is designed to block all unwanted calls from telemarketers, solicitors, credit card companies, political calls or any other type of unwanted callers. It is able to block up to 1000 different numbers, and is pre programmed with 200 already blocked numbers known by the Call Prevention Agency as spam phone numbers. With the ability to block international, private, and area codes this device will successfully do its job. This device does not come equipped with a screen, but just a "Block Now" button located on the top of the device. Simple set-up and simple use this device is a perfect way to block those pesky unwanted calls. The CPR Call Block is made by the same company that also makes the CPR Call Blocker Version 202 – a similar model with other added features. 
Pros: 
With the purchase of the CPR Call Blocker V108 customers will recieve200 numbers already pre programed within the device from the Call Prevention Agency.

Device itself is small, easily placed anywhere a customer would need it.

Simple set-up and usage, with a 1 button system theres no way to get confused with unnecessary features.

Fairly cost efficient compared to its competitors.

Hundreds of reviews allowing possible customers to research before purchasing.
Cons: 
The CPR Call Blocker V108 does not include a screen or anyway to display the numbers calling.

Reviews of the product not working or not working to customers satisfaction.

Customers have to manually block each number due to the fact that this device cannot scroll through recent phone calls.

Customer reports that this device has trouble working with Comcast, and Panasonic phone systems.
Overall Rating:
7.5/10
The CPR Call Blocker V108 is a very good device for blocking unwanted spam or telemarketers. Although being a fairly cost efficient device there are some problems customers have been reporting. There is no display screen, disabling customers through scrolling through recent calls, forcing the users to manually block each call as they come. This device also has had reports of difficulty working with Comcast and Panasonic phone systems causing some customers to get frustrated.
Although there are some flaws with this device there are hundreds of positive reviews on this device proving that it is well tested. When purchased the customer gets the advantage of receiving 200 pre blocked phone numbers already known to be nuisances by the Call Prevention Agency. This device is recommended to be used for individuals looking to prevent those spam calls, if installed and used correctly this device will successfully do what it is advertised to do.