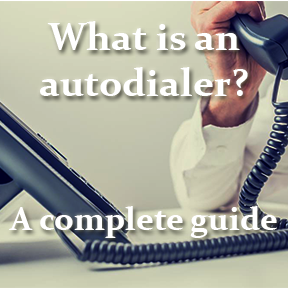 What is an auto dialer? – Everything you need to know about autodialers
Many people have become curious as to the true purpose of an autodialer, a software program that is designed to call a set of numbers, sometimes random, sometimes from a list, and wait for a response from the person at the other end. Autodialing is similar to robocalling, but usually robocalling always asks you to enter a number to be connected, with an autodialer, sometimes it will connect you to a live person right away. If you are at the receiving end of a autodialer call, usually an autodialer begins with a prerecorded message stating the purpose of the call, and then asks the person who picked up the phone to press a number to speak to a representative. The system will then connect you with a live representative.
There has been many reports of scams occurring with auto-dialers, from racking up incredibly expensive long-distance charges, to scammers communicating with potential victims thanks to autodialer software. This article will hopefully teach you everything you need to know about autodialers and what to look out for if you receive an autodialer call. While autodialers are used in marketing, they are not always bad; an electricity company, for example, may use an auto-dialer software to reach customers who are overdue and remind them to make a payment. In certain cases, autodialers can be very useful for a business to expand and reach out to customers who are waiting for support as well, so it's important to understand both sides of the autodialer strategy not just from a consumer standpoint, but from a business standpoint as well. 
Types of Autodialer Software Providers
There are many, many companies that offer an autodialer service. Perhaps the most popular autodialer software on the market today is auto-dialers which feature advanced cloud computing systems and administration, this enables the users of the autodialer to log in remotely and operate, answer calls, and reach customers and potential sales leads.  A feature often advertised in autodialers is the "predictive dialing feature", which is advertised as being able to call the customer during optimal times and leave voicemail messages when necessary. Not all auto-dialing companies offer this, which is why we provided the following information about some of the common autodialing programs and companies below to help you understand the pros and cons of each one. At the end of each autodialer company is a green sentence which explains the common calls that come from each company, and what to look out for with each vendor. 
1: Callfire
Callfire (www.callfire.com) is a company that is based out of Santa Monica, California. Is has boasted over 50,000 clients and over 185 million billed minutes in the year 2012, we expect those numbers to be steadily increasing since then. Callfire offers cloud-based autodialer programs which are heavily used by political campaign groups during elections and lobbying. Chances are you have received a call before from a representative asking you to pledge support to a certain political candidate or group, Callfire most likely made the connection between you and the operator of the autodialer on the other end. Callfire is also used by many municipal fire, police, and emergency services throughout the United States to issue warning calls to residents inside and affected area, it was primarily used during Hurricane Sandy. Callfire has the added benefit of being Do Not Call compliant, which means that they don't engage in the shady marketing tactics of some of their competitors. 
You may get a call from a Callfire autodialer if the call contains subjects like political fundraising or emergency messages from the government. 
2: Five9 
Five9 (www.five9.com) is a company operating out of San Ramon, California that offers cloud-based call center technologies for businesses large and small. On their customer page, they offer insight on some of their larger customers, which feature Xerox, Comcast, and Citrix, among others. Five9 offers a new feature we haven't covered yet, which is the ability to automatically suggest the next number during a calling session and providing the sales agent or representative the opportunity to look over the intended callers information before making the call. In addition to that, there are a large variety of outsourcing integrations with Five9, which may indicate that their main source of income as a company comes not only from the software they provide, but with the ability to offer companies outsourcing solutions to meet their needs with customers as well. 
You may receive a call from the Five9 autodialer software if the call subject matter contains anything relating to Comcast, Citrix, or Xerox. 
3: VanillaSoft
Vanillasoft (www.vanillasoft.com) is a VoIP service provider that is slightly different from the above companies in a  few ways. To begin, VanillaSoft pledges that they do not take advantage of pre-recorded messages, instead they prefer to automatically connect the customer service representative with the call recipient right away. In a way, this makes more sense from a consumer standpoint too, because instead of having to press a number to reach a representative, or speak into the phone to let the software know that you are on the phone, you are insisted automatically connected to a real person. VanillaSoft customers include West Virginia State University, MGM Resorts, Google, Capital One, and others. VanillaSoft also takes into account the Canadian DNC list that Canadian citizens can register with to ensure they don't receive telemarketing calls. 
You may receive a call from the VanillaSoft autodialer if the call contains subject matter relating to customer support, tech support, or Google and Capital One.
4: Voicent
Voicent (www.voicent.com) is a smaller autodialer company based out of Mountain View, California, that instead of offering monthly contracts to use the autodialer software, instead has a product that requires a one-time fee to use (you can also lease the program for smaller projects). Once you purchase or lease the software, you can use the software for as long as you like for as many numbers as you need, importing via CSV file or other list of phone numbers. Lacking certain features like cloud-based service options and outsourcing add-ons that the larger vendors provide, the Voicent software still manages to be a major player in the predictive caller sales system. In addition to offering VoIP software, Voicent also offers a bulk SMS text messaging software
 that can be purchased from many online retailers, including Amazon.com 
You may receive a call from the Viocent autodialer company if the call contains subject matter relating to product pitches and sales calls. 
5: Velocify
Velocify (www.velocify), previously known as Leads360, operates out of El Segundo, California, and sets itself apart by being able to seamlessly integrate with existing software like Salesforce and other customer-relations software to ensure a efficient and fast call system to the customer. In addition, you can access Velocity from your smartphone or other internet-connected device, to ensure that customers are never left in the dark and can always be reached at any given time. As a consumer, this is helpful when you are dealing with companies large and small by ensuring that a customer support agent is always available to take your call, and that you aren't kept on hold or waiting for a call all day. Velocify has raised over $3 million dollars in venture seed funding to expand its business features and hire more employees (currently, the company employs approximately 150 people full time). 
 You may receive a call from the Velocify autodialer software if the call contains subject matter relating to customer support, customer satisfaction, or sales leads for large and small businesses. 
How can you tell which autodialer service is the best?
Usually, you want to receive a call from the vendor that is DNC compliant, which means that they will remove you from their calling list if you request to be removed during the beginning or end of the call. Keep in mind that this may not be possible if the autodialer is connecting you to a bill collector, for example, because they have the legal obligation to try and contact you due to an outstanding debt. If you are ever concerned as to wether or not you can be removed from an autodialer program, ask the service representative about their do not call policy, if they have one. Otherwise, you can block the number on your phone itself or call your service provider to request blocking the number as well. 
It might also be worth it to read the reviews posted on the Better Business Bureau about each autodialer company, to see if they have had any lawsuits or infractions against them in the last few years, and if that has affected their business at all. Most of the "free" or "open source" autodialer programs enable spammers to contact you in the middle of the night, so if you don't know wether or not the companies above are calling you over and over, it's always best to just ask the service rep for any information about how they got your number to call. 
 We hope this helps you understand how autodialers work, and what you should look out for in the future. If we missed anything, be sure to let us know down below!