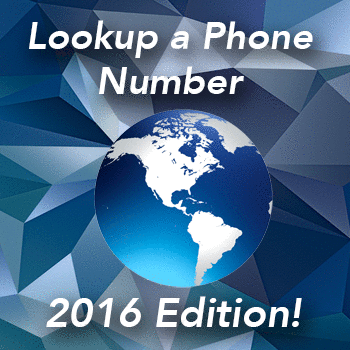 10 Ways To Lookup a Phone Number Online (2016)
In the modern age, everyone has a cell phone, and every once and a while you may receive a phone call from someone you may not know. In order to find out who called you, there are a few methods to reverse lookup a phone number (for free!) that will help you find out the name behind who called you. Most of the methods available online – but there is some old fashioned ways to go about finding someones phone number that you may not be aware of. In this list, we have compiled the best methods for 2016.
1: Determine if the caller states their name via their voicemail message
Using popular tools like SpyDialer will enable you to dial a persons phone number and go straight to voicemail, without letting the person know that you've called. These tools have become incredibly popular the past few months especially from people who can't remember names very well, because sometimes just hearing the persons voice on their voicemail will help you determine who they are.
Read More: Using SpyDialer as a free reverse phone number lookup service 
2: Use Facebook and other social media sites to find a profile with a phone number
Facebook enables you to add a phone number to your profile so that friends can find you. If you do not adjust the privacy settings on your Facebook, people can enter your phone number in the search box and then be taken to your profile, and it works the same for other social media sites as well so that friends can easily find other friends. Using the Facebook Method you can determine a lot about a person based entirely from their Facebook, using just their phone number.
3: Use a reverse phone lookup directory
There are many phone number directories on the internet, some cost money to use but most are free to use, at least up to a certain amount of number. We took a look at popular reverse phone lookup directories online and talked about each one of them in this article, so you can go through each one of them and see if your number returns a match.

4: Use your carrier to your advantage! Carriers usually have white pages.
Carriers like Verizon, AT&T, and T-Mobile usually have public white pages that are available for you to lookup the derails of members that are on the network. As a courtesy, most carriers offer this list for free, as long as you are on the same carrier. Check on the official website for your carrier to see if they have any resources for you, you might be surprised how much information they provide (for free!).
5: Use a friends phone to call the unknown caller
A friend can come in handy, especially if they have no relation to the caller. Simply use the call a friend method and call the person and ask for their name, then you can make an excuse such as "Oh sorry, I was looking for so and so", the person you called will think it was just a wrong number, and you have determined who called your phone at the same time.
6: Pay for a reverse phone number lookup service online
There are many reverse phone number lookup services online, most of them charge a nominal fee for using their service. We found that the cheapest phone lookups come from reputable companies like Spokeo. Spokeo has a huge directory of private numbers, and the names associated with those numbers as well, so they will be able to provide you with much more information including background checks, property the person may own, and a variety of other information that you would have to pay big money to find out otherwise. Use this as a last case scenario, because there are plenty of other options out there.
7: Determine the area code and then lookup location using an online Whitepages
If you have a full phone number, the first three digits are the area code. By using the area code you can then lookup a white pages directly specific to the city or town that the person called from, which is much more specific and contains a lot more info than nationwide white page books.
Read more: Find out what state a person called form using their area code
8: Use a smartphone app on iPhone or Android
Smartphone apps have built in ways to search address books of other people in search of the number that you would like to know more about. Be careful when using them, because sometimes they can upload your own address book without you knowing! If you want to find out more about which apps you can use, take a look at this article.
9: Hire a private investigator or expert
If the person you are trying to find is particularly important or it is a non-time critical emergency, it may be necessary to hire a private investigator so that they can use their legal tools to find out who may own a phone number. Private investigators are provided tools that are not available to the public in order to ensure that they are able to find individuals that may be in hiding or do not want to be found.
10: Check back at BestFreePhoneLookup each week!
At www.bestfreephonelookup.com, we release new reverse phone lookup methods each and every week, every week has a new method that can help you in some way to find out who called you, that's what we're here for and we are happy to help! If you have any questions or concerns you can always send us a message on the "Contact Us" form available at the top of the page, we look forward to your comments and feedback.