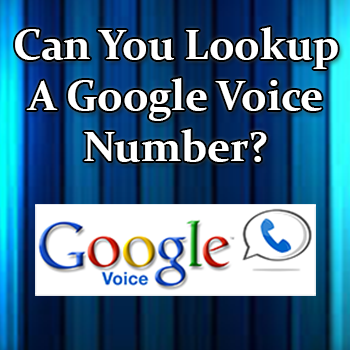 Is There A Google Voice Phone Number Directory?
A lot of businesses and individuals use Google Voice to make phone calls and communicate with people without giving out their real phone number. This can be really useful if you're communicating on Craigslist and want to keep your privacy, and a host of other reasons. However, Google Voice can be frustrating if you're not sure who it is that's calling. If you are sure that the person who is calling you is actually using Google Voice, you might also wonder if it is possible to lookup a Google Voice number and find out who it really is. (Note, if you're not sure the number that called you is in fact using Google Voice, use this guide first.)
Is there a Google Voice Directory?
In short – not really. Google does not maintain an active directory of each person who uses Google Voice, and even if it did have a list of all the phone numbers currently in use, it does not in any way tell you their first or last name, or even address. You will need to do a bit of searching online to find this information, and even then – if the person is using Google Voice and doesn't want to be found, it will be very difficult to find out who it is.
What you can do:
1: Use a service like a phone directory to determine if anyone else out there has also received a call from the same number and has left a comment about who the person might be. We have compiled a review of phone directories here.
2: Use the Facebook Method to see if the person who is using Google Voice has connected the number to a social media profile and made that information public. This is probably your best bet for someone who is living within the United States.
3: If the number is particularly offensive or threatening, you can following Google's instructions under the "Unwanted or abusive calls from a Voice number to a non-Voice number" section. There is no way to report a Google Voice number directly to Google unless the person calls your own Google Voice account.
You can attempt to use a paid service to lookup the number, but it's likely that they will be unable to lookup any information that you couldn't lookup yourself, or that can be found in the "Methods" section.
If a Google Voice Directory does happen to pop up in the future, we'll be sure to update this post with more information on how to lookup a number, but until then – we just need to work with the tools we were given!