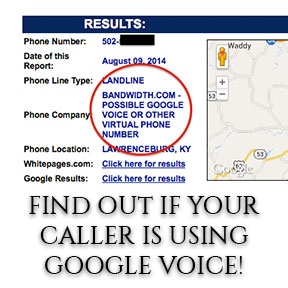 Method: How to find out if someone is using Google Voice
Google Voice is an incredibly powerful virtual phone number service from Google that can be configured to send texts, and also make and recieve phone calls. To learn more about the features and usage of Google Voice, check out this article: What is Google Voice?
Telemarketers and scammers use Google Voice all the time. Take this ABC News article for example: http://abc30.com/archive/9444131/ . Scammers can use Google Voice in order to pretend like they are calling from your town or city. This makes the person receiving the call think that they are actually a person calling from their hometown, DON'T FALL FOR THIS TRICK. If you receive a call from a person that has the same area code as you but sounds foreign or a telemarketer, ask them what town they are located in. If they refuse to answer or make something up, hang up and use the Prevent Telemarketers method to remove your number from the calling list.
There are a few ways to find out if the person who called you is using Google Voice. Both of these methods are free and just require a bit of time.
1: Call the number back and listen to the voicemail
You can use the SpyDialer Method or Use a Friend Method to perform this step if you don't feel like calling the unknown caller from your own phone. But you will need to listen to the voicemail for something along the lines of this: "You have reached a Google Voice caller, please leave your name and number". Once you hear the automated voice that says anything about Google Voice, there is a very high chance that the caller is using Google Voice to make their calls. At this point it becomes very difficult to report them or do anything about the scammer/spammer. You can try to reach out to Google to report the number, but this may be difficult.
2: Use the Phone Number Lookup Tool to check if the number is associated with Google
We have built a free tool which allows you to determine if the number who called you is using Google Voice, by performing a free reverse phone number lookup. Follow these instructions:
Simply head to the Lookup Phone Number tool

Enter the full phone number that called you in the search box

At the results page, look under the "Carrier" section

If the "Carrier" is "Google (Grand Central) BWI – Bandwidth.com – SVR", then the number is a Google Voice number
3: Check other reverse phone number databases for mentions of Bandwidth.com
Google Voice is mostly powered by a company called bandwidth.com. If you visit a reverse phone number database and there is any mention of this company or website, it is most likely a Google Voice number.
Want to try a different method? Try the AT&T Directory Assistance Method