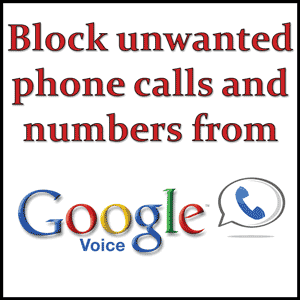 How to block Google Voice phone calls and numbers
Google Voice is an amazing service which is used by millions of people worldwide – but sometimes it falls into the wrong hands and causes telemarketing offers and other unwanted calls from people who use Google Voice to make calls and annoy users. If you are affected by this type of nuisance, do not fear, for Google has implemented a way to block these annoying callers and stop them from calling your phone number. If you are not sure if the caller is using Google Voice – read the article on how to tell if someone is using a Google Voice number instead.
If you are a Google Voice user, and are receiving unwanted calls, you can do the following:
1: Go to voice.google.com, click on the "gear" icon in the upper right hand corner of the screen.

2: Click on "settings" in the drop down menu from the gear icon
3: In settings, click on "Calls" from the tabs
4: At the bottom of the page, look where it says "Global Spam Filtering"  – make sure there is a checkmark next to that option.
Global Spam Filtering will identify phone numbers that are within the Google database and have been flagged as spam. They will then be sent directly to your "Spam" folder in Google Voice so that you do not hear the phone ring and will stop receiving the calls. (If for some reason a call gets routed to your spam folder and you DO want to receive the call, you can right click on the call in your spam folder and select "not spam")
5: Additionally, if you receive an individual call that is not routed to the spam folder and you still want to block the call, you can click on the "more" link, and then click on "block caller".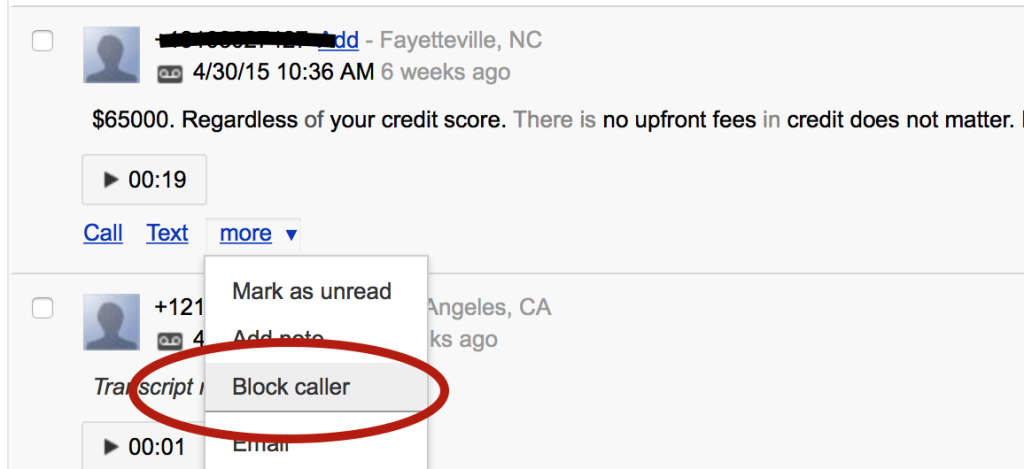 You can also watch this video from Google Voice, which walks you through the instructions explained above:
If you are not a Google Voice user, but are receiving unwanted calls from a Google Voice number, you can:
1: Report the call to your carrier and request carrier blocking
2: If you own an iPhone, you can block the caller from your iPhone
3: You can invest in a call blocker device which will filter out all incoming unwanted calls, not just Google Voice.
If any of the above options are not working for you, or if the phone calls are harassing and threatening you, it is recommended that you report the call to authorities immediately and then call you carrier to report abusive calls.